This month marks the 100th anniversary of the ratification of the 19th Amendment to the U.S. Constitution which stated, "The right of citizens of the United States to vote shall not be denied or abridged by the United States or by any State on account of sex." However, there were still barriers, including poll taxes and literacy tests among others, that kept many people, including Indigenous and Black women and men, from voting. This year also marks the 55th anniversary of the Voting Rights Act, passed in 1965 to address these restrictions of voting rights. Still today, voter ID laws and the purging of voter rolls in some states continue to be a barrier to voting.
OPL has new books on the history of women's suffrage and the ongoing struggles to ensure that all voices are heard and counted in U.S. elections. Here are some books to help you explore the history of voting rights in the United States.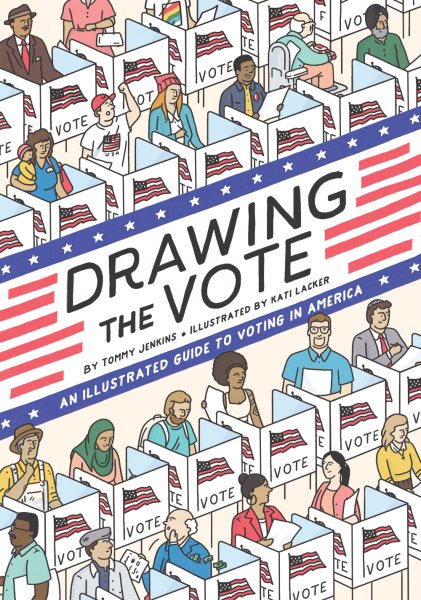 Our time is now : power, purpose, and the fight for a fair America / Stacey Abrams
Celebrated national leader and bestselling author Stacey Abrams offers a blueprint to end voter suppression, empower our citizens, and take back our country. A recognized expert on fair voting and civic engagement, Abrams chronicles a chilling account of how the right to vote and the principle of democracy have been and continue to be under attack.

Uncounted : voter suppression in the United States / Gilda R. Daniels
Uncounted examines the phenomenon of disenfranchisement through the lens of history, race, law, and the democratic process. Gilda R. Daniels, who served as Deputy Chief in the United States Department of Justice Civil Rights Division and more than two decades of voting rights experience, argues that voter suppression works in cycles, constantly adapting and finding new ways to hinder access for an exponentially growing minority population. She warns that a premeditated strategy of restrictive laws and deceptive practices has taken root and is eroding the very basis of American democracy―the right to vote!

Suffrage : women's long battle for the vote / Ellen Carol DuBois
Distinguished historian Ellen Carol DuBois begins in the pre-Civil War years with foremothers Lucretia Mott, Elizabeth Cady Stanton, Susan B. Anthony, and Sojourner Truth as she explores the links of the woman suffrage movement to the abolition of slavery. After the Civil War, Congress granted freed African American men the right to vote but not white and African American women, a crushing disappointment. DuBois shows how suffrage leaders persevered through the Jim Crow years into the reform era of Progressivism. She introduces new champions Carrie Chapman Catt and Alice Paul, who brought the fight into the 20th century, and she shows how African American women, led by Ida B. Wells-Barnett, demanded voting rights even as white suffragists ignored them.

Exploring women's suffrage through 50 historic treasures / Jessica D. Jenkins
From hunger strikes to massive parades, the American women's suffrage movement grabbed the attention of citizens and politicians around the United States. Posters, lapel buttons, and even luncheonette plates carried the iconic phrase, "Votes for Women." Over time this phrase became not only a slogan, but a rallying cry for the movement. Today, museums, libraries, universities, and historic sites across the country care for the objects and places that tell the story of suffrage. Exploring Women's Suffrage through 50 Historic Objects brings together a selection of these cultural gems representing the milestones, people, and legacy of the long campaign for women's voting rights.

Drawing the vote : the illustrated guide to the importance of voting in America / written by Tommy Jenkins ; illustrated by Kati Lacker
Coinciding with the 2020 US presidential election, Drawing the Vote, an original graphic novel, looks at the history of voting rights in the United States and how it affects the way we vote today. At a time when many citizens are experiencing challenges and apathy about voting and skepticism concerning our bitterly divided government, this book seeks to offer some explanation for how we got here and how every American can take action to make their vote count.
Amazons, abolitionists, and activists : a graphic history of women's fight for their rights / Mikki Kendall ; art by A. D'Amico ; colors by Shari Chankhamma ; letters by Erica Schultz
Covering the key figures and events that have advanced women's rights from antiquity to the modern era, this fascinating graphic novel-style primer illuminates stories of notable women throughout history and the progressive movements led by women that have shaped history.

SHE VOTES : HOW U.S. WOMEN WON SUFFRAGE, AND WHAT HAPPENED NEXT / by Bridget Quinn ; with a foreword by Nell Painter ; with illustrations by 100 women artists
This book tells the story of how women won the right to vote, and what happened next. Told by historian Bridget Quinn and illustrated throughout by 100 women artists

Why they marched : untold stories of the women who fought for the right to vote / Susan Ware
For far too long, the history of how American women won the right to vote has been told as the tale of a few iconic leaders, all white and native-born. But Susan Ware uncovered a much broader and more diverse story waiting to be told. Why They Marched is a tribute to the many women who worked tirelessly in communities across the nation, out of the spotlight, protesting, petitioning, and insisting on their right to full citizenship. Ware tells her story through the lives of nineteen activists, most of whom have long been overlooked. We meet Mary Church Terrell, a multilingual African American woman; Rose Schneiderman, a labor activist building coalitions on New York's Lower East Side; Claiborne Catlin, who toured the Massachusetts countryside on horseback to drum up support for the cause; Mary Johnston, an aristocratic novelist bucking the Southern ruling elite; Emmeline W. Wells, a Mormon woman in a polygamous marriage determined to make her voice heard; and others who helped harness a groundswell of popular support.

All descriptions are provided by the publisher.