In honor of Black Speculative Fiction month here are some new titles from OPL to keep you reading throughout the month and year. For a more comprehensive listing of Black Speculative Fiction available at OPL, please visit this post.
Happy reading and Happy Black Speculative Fiction Month! If there are titles missing from our shelves that you'd like to read, please leave a message below. We'll do our very best to purchase them for our collection.
Anthologies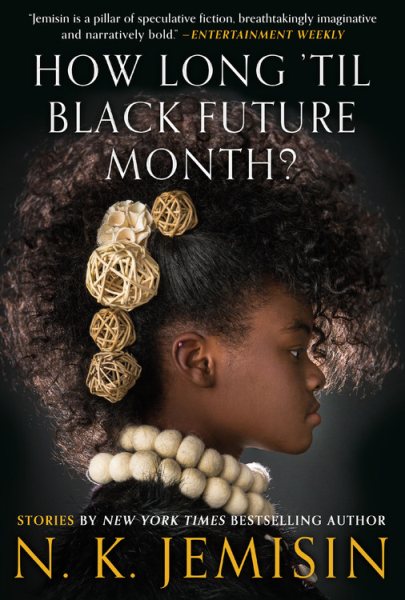 How long 'til black future month? / N. K. Jemisin
Jemisin equally challenges and delights readers with thought-provoking narratives of destruction, rebirth, and redemption. Dragons and hateful spirits haunt the flooded streets of New Orleans in the aftermath of Hurricane Katrina. In a parallel universe, a utopian society watches our world, trying to learn from our mistakes. A black mother in the Jim Crow South must save her daughter from a fey offering impossible promises. And in the Hugo award-nominated short story "The City Born Great," a young street kid fights to give birth to an old metropolis's soul.
Bodyminds reimagined : (dis)ability, race, and gender in black women's speculative fiction / Sami Schalk
Sami Schalk traces how black women's speculative fiction complicates the understanding of bodyminds—the intertwinement of the mental and the physical—in the context of race, gender, and (dis)ability. Bridging black feminist theory with disability studies, Schalk demonstrates that this genre's political potential lies in the authors' creation of bodyminds that transcend reality's limitations. She reads (dis)ability in neo-slave narratives by Octavia Butler (Kindred) and Phyllis Alesia Perry (Stigmata) not only as representing the literal injuries suffered under slavery, but also as a metaphor for the legacy of racial violence. The fantasy worlds in works by N. K. Jemisin, Shawntelle Madison, and Nalo Hopkinson—where werewolves have obsessive-compulsive-disorder and blind demons can see magic—destabilize social categories and definitions of the human, calling into question the very nature of identity. Schalk shows how these works open new social possibilities while changing conceptualizations of identity and oppression through nonrealist contexts.
The dark fantastic : race and the imagination from Harry Potter to the hunger games / Ebony Elizabeth Thomas
Thomas considers four black girl protagonists from some of the most popular stories of the early 21st century: Bonnie Bennett from the CW's The Vampire Diaries, Rue from Suzanne Collins's The Hunger Games, Gwen from the BBC's Merlin, and Angelina Johnson from J.K. Rowling's Harry Potter. Analyzing their narratives and audience reactions to them reveals how these characters mirror the violence against black and brown people in our own world. In response, she uncovers and builds upon a tradition of fantasy and radical imagination in Black feminism and Afrofuturism to reveal new possibilities.
Fiction and Poetry
Electric arches / Eve L. Ewing
Blending stark realism with the surreal and fantastic, Eve L. Ewing's narrative takes us from the streets of 1990s Chicago to an unspecified future, deftly navigating the boundaries of space, time, and reality. Ewing imagines familiar figures in magical circumstances―blues legend Koko Taylor is a tall-tale hero; LeBron James travels through time and encounters his teenage self.
The record keeper / Agnes Gomillion
After World War III, Earth is in ruins, and the final armies have come to a reluctant truce. Everyone must obey the law—in every way—or risk shattering the fragile peace and endangering the entire human race. Arika Cobane is on the threshold of taking her place of privilege as a member of the Kongo elite after ten grueling years of training. But everything changes when a new student arrives speaking dangerous words of treason: What does peace matter if innocent lives are lost to maintain it? As Arika is exposed to new beliefs, she realizes the laws she has dedicated herself to uphold are the root of her people's misery. If Arika is to liberate her people, she must unearth her fierce heart and discover the true meaning of freedom: finding the courage to live or die without fear.
After the flare / Deji Bryce Olukotun
A catastrophic solar flare reshapes our world order as we know it – in an instant, electricity grids are crippled, followed by devastating cyberattacks that paralyze all communication. With America in chaos, former NASA employee Kwesi Bracket works at the only functioning space program in the world, which just happens to be in Nigeria. With Europe, Asia, and the U.S. knocked off-line, and thousands of dead satellites about to plummet to Earth, the planet's only hope rests with the Nigerian Space Program's plan to launch a daring rescue mission to the International Space Station.

An unkindness of ghosts / Rivers Solomon
Aster lives in the lowdeck slums of the HSS Matilda, a space vessel organized much like the antebellum South. For generations, Matilda has ferried the last of humanity to a mythical Promised Land. On its way, the ship's leaders have imposed harsh moral restrictions and deep indignities on dark-skinned sharecroppers like Aster. Embroiled in a grudge with a brutal overseer, Aster learns there may be a way to improve her lot--if she's willing to sow the seeds of civil war.
Do you dream of Terra-Two? / Temi Oh
A century ago, an astronomer discovered an Earth-like planet orbiting a nearby star. She predicted that one day humans would travel there to build a utopia. Today, ten astronauts are leaving everything behind to find it. Four are veterans of the twentieth century's space-race. And six are teenagers who've trained for this mission most of their lives.It will take the team twenty-three years to reach Terra-Two. Twenty-three years locked in close quarters. Twenty-three years with no one to rely on but each other. Twenty-three years with no rescue possible, should something go wrong. And something always goes wrong.
Rosewater / Tade Thompson
In this futuristic thriller set in the middle of the 21st century, a Nigerian psychic goes up against aliens, criminals, and bizarre phenomena while coping with an increasingly weird world. Kaaro, once a thief capable of finding anything or anyone, now works for the ultra-secret Section 45 as a telepathic interrogator and investigator. When his fellow psychics start dying off, his attempts to discover the cause lead him to the alien-created biodome in the center of the city of Rosewater. As Kaaro's past, including his previous experiences with the biodome, unspools in this nonlinear adventure, he learns the disturbing secret of the aliens who have settled on Earth.
The Rosewater insurrection / Tade Thompson
All is quiet in the city of Rosewater as it expands on the back of the gargantuan alien Wormwood. Those who know the truth of the invasion keep the secret. Government agent Aminat is at the forefront of the cold, silent conflict. She must capture a woman who is the key to the survival of the human race. But Aminat is thwarted by the machinations of the mayor of Rosewater and by the emergence of an old enemy of Wormwood.
All descriptions are provided by the publisher.